Postpartum Doula Training and Certification
Ease the transition for families with a newborn (or two!)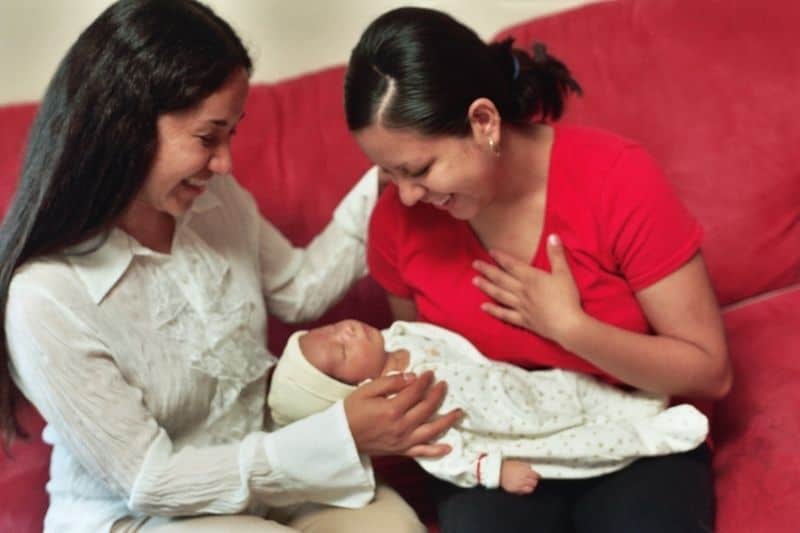 Invest in our Postpartum Doula Training and learn how to create a cocoon of rest, healing, and support for the new mother. Encourage breastfeeding moms to overcome challenges and grow in confidence. Help care for newborns and their siblings, and relieve the sleep-deprived, overwhelmed parents of newborn twins. And ease the pain of that mom who is struggling emotionally in the early weeks of her baby's life.

BECOME A POSTPARTUM DOULA!
CURIOUS about doula training? Join our monthly live webinar: "Top 5 Questions about Becoming a Doula"
Our interactive FREE webinar provides an overview of the role of birth and postpartum doulas, the certification process, your income potential as a doula, how to get started on your path, and more. This session offers an opportunity to spend an hour together and get your questions answered before making an investment.
Your skills-oriented postpartum doula training includes:
Our professional certification features a streamlined process that can be completed shortly after training. Included in your training fee. Learn more.
REGISTRATION ~ SCHEDULE & FEES
Doula Fundamentals & Essential Skills
Get started with seven self-paced study modules covering core competencies for all doulas. These are paired with each specialty training—Birth, Postpartum, and End-of-Life—and are included when you purchase a training. See topics covered.
Postpartum Mother/Baby/Family Care Basics
Postpartum Doula Training
DOULA BUSINESS BUILDER TRAINING BUNDLES
Are you interested in more than one training or doula specialty?
Do you need expert advice on the business aspects of doula work?Choose the package that best fits your goals & save!
If you are interested in specializing as a doula in more than one area, these packages deliver the best value on your investment. Choose one, two, or three certification programs. Plus training in how to put it all together into a life-changing, successful doula business.
Doula Business Builder Package
$897
or PAYMENT PLAN:
$397 down + 5 payments of $100
Doula Business Builder Package
$1897
or PAYMENT PLAN:
$497 down + 7 payments of $200 OR 12 payments of $120
Doula Business Builder Package
$1397
or PAYMENT PLAN:
$397 down + 4 payments of $250 OR 10 payments of $100
What makes us different? Why train with Lifespan Doulas?
Top value at an affordable price! We understand you are searching for the best fit. Here is what we believe to be unique about our program and what we think sets us apart.
Benefit from the best of both worlds! Get grounded in the basics with our self-paced online learning modules. And experience the inspiration and sense of community generated in a live online workshop.

Our professional and accessible certification process can be completed shortly after training, has no expiration date, and is included in the cost of training. No additional (or hidden) costs! Learn more.
Our focus is on the development of doula support skills and building a strong foundation of knowledge about the postpartum recovery and adjustment period. Emphasis is placed on loving care, proactive prevention of trauma for all families, and teaching our clients how to become their own best advocates.
What do participants have to say about their training?
"I could not have envisioned a more intelligent and comprehensive four days. I learned so much and continue to be so excited about this new path I'm on. I feel so fortunate to have crossed paths with you. Thank you sincerely for the formidable training!" —Kim Manasevit, Brookline, MA
"Just wanted to thank you for an amazing weekend. Each day was super and surpassed my expectations." —Jody Swank, Mattawan, MI
"Patty was very professional, caring, passionate and dedicated. I was reassured that becoming a postpartum doula is what I want to do. I was also given great advice for starting my own business. I would highly recommend this training to anyone and cannot say enough good things about it!" —Leah Segura, Bay City, MI
"Patty is an excellent trainer. I felt welcomed, accepted and appreciated. The training was extremely informative and enjoyable, and I learned lots of tools for working through potentially challenging situations. I feel very equipped." —Kelli Brien, South Bend, IN