The Doula Business Guide & Workbook
How to succeed as a birth, postpartum, or end-of-life doula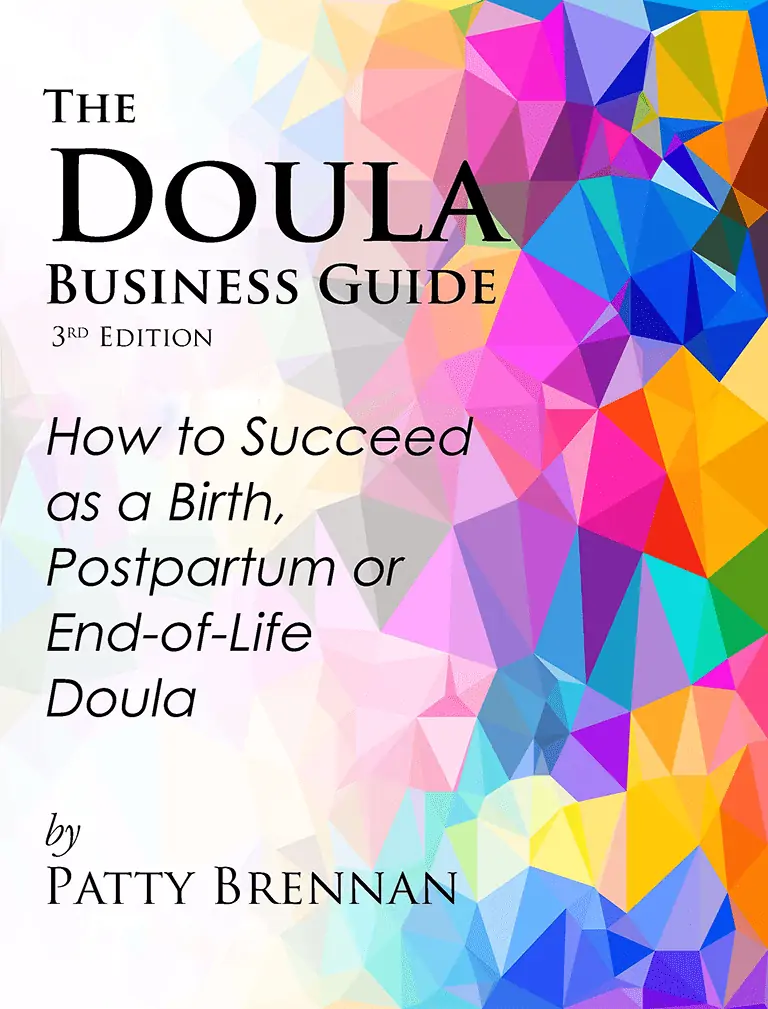 Wholesalers / Bulk Orders
Save 40% off when you order six or more copies of any book.
Instructors: Do you want to use our books in your training program?
Sellers: Wholesale discount available for retailers.
S&H: You pay shipping. We ship priority mail within the United States. Email patty@lifespandoulas.com to place your order.
"What an amazing pair of books! I'm so thrilled to be able to share these books with my workshop participants. I love how comprehensive they are with so many different business models and detailed questions to ask to see which one is right for you. You have great focusing exercises for the new person who has never run their own business."
—Amy L. Gilliland, Ph.D., author, doula trainer, and doula researcher, Madison WI
THE DOULA BUSINESS GUIDE: How to Succeed as a Birth, Postpartum or End-of-Life Doula, 3rd Edition
By Patty Brennan
Foreword by Penny Simkin
The landscape for doulas is ever changing, growing, evolving. Patty Brennan's 3rd edition of The Doula Business Guide provides freshly updated resources and insights into the business side of being a doula. As a growing number of end-of-life doulas are pioneering new approaches to compassionate support at the other end of the birth–death continuum, there will be many who can benefit from Patty's guidance. She shows both new and seasoned doulas how to go from dream to reality, step-by-step, and make their living doing work they love. Discover why this book is required reading for a growing number of doulas of all types.
The notion that heart-centered work and making money are somehow incompatible is a false dichotomy. You CAN choose a path of service to others AND thrive financially!
"Lest it sound daunting, The Doula Business Guide is a good read! Patty's honesty, conversational tone, humor, instructive stories and obvious expertise carry you through each chapter. She shares pearls of wisdom gleaned from years of experience with many types of doula practice. This book is more than an excellent guide to business, but also a guide to the high road for each of us and to growth for the entire doula movement."
—Penny Simkin, Co-founder of DONA International and prolific author, Seattle WA
The Doula Business Guide will help you:
Thinking of starting a nonproft doula program? You will also find guidance on:
What do doulas think of The Doula Business Guide?
"In her Doula Business Guide and Workbook, Patty Brennan dissolves the largest looming barrier for doulas—turning a work of heart into a professional practice. She gently companions readers through a comprehensive overview of launching and sustaining a successful business. Doulas not only learn about the ins and outs of organization and marketing, they learn about themselves—their strengths, fears, and goals. I strongly recommend this invaluable resource to all aspiring and practicing doulas!"
—Francesca Arnoldy, Program Director, University of Vermont's End-of-Life Doula Training and author of Cultivating the Doula Heart: Essentials of Compassionate Care.

"The Doula Business Guide has been the singular 'light in the dark' resource for me as I begin my career as a doula. Though we have never met, I have found confidence in my ability to navigate the nebulous world of self-employment and doula work and find myself asking, 'What would Patty do?'"
—Jessica Gee, San Mateo CA
"Thank you so much for your sharing spirit and for helping me conceptualize the foundational blocks for my doula business. Your book and gems of wisdom are like liquid gold in my mind and heart now. Thank you for being a phenomenal educator and writer. Our sisterhood is privileged to have you!"
—Shamila Jocelyn, Providence RI
"I've been glued to your book tonight—can't put it down, even though my bedtime has come and gone long ago. The information you have packed into this book is amazing. You are SO encouraging and hit on so many of the issues that have crossed my mind in considering every aspect of becoming a professional doula—on both the business side of things, as well as the personal. I just wanted to say, 'Thank you.' This will be read and re-read and resourced for many years to come."
—Janis Flint, Ravenna MI
"Thank you for your wonderfully encouraging, helpful book. After reading it, I feel I have the resources to confidently market my doula practice. I moved from a small city in Minnesota to Portland, OR last year and went from being a busy doula to not having any clients or connections with the birth community. After wasting time wondering if something was wrong with me being a doula, I am now actually excited to network with professionals, organize my marketing materials, and tweak my website. Thanks again for the inspiration!"
—Celia Linnemann, Portland OR
"What a valuable resource! I am a returning doula. I have known Patty for many years and have admired her ability to morph her gig into a sustainable and vibrant business while many doulas have not. Patty not only openly and honestly shares her successes, but also her failures and what she has learned, so you don't have to experience them for yourself. What a gift to us all!"
—Gloria Cunningham, Detroit MI
"The Doula's Business Guide is an incredible and potent resource for any doula just beginning in this business. Patty Brennan has a gift and has turned it into a gift for us readers and aspiring doulas."
—Nelly Keisi, Lancaster, PA
The Doula Business Guide Workbook: Tools to Create a Thriving Practice, 3rd Edition
The Workbook features interactive tools designed to help you plan, organize, and grow your business. In addition, you will find articles on:
Understanding keywords
Mastering the sabotage monster within
Competition makes us stronger
Are you feeling stuck? (How to get unstuck)
How to form a Mastermind Group
And more!
Whether you are new to the world of self-employment and just beginning the visioning process or are already a seasoned doula business owner in need of more clients, the Workbook is designed to help you manifest your dreams. Get ready to implement!
Here are some of the "Grow Your Business" Tools you will find in the Workbook:
"I am just so grateful that you have published your wisdom about business building and made the process of acquiring entrepreneurial knowledge so simple and streamlined. What I've learned from your workshops and books has been immensely helpful in my career, both as a nurse and a doula. It has been a joy to look up to you as a role model and mentor over the past four years. I'm proud to say that I'm following my heart and transitioning in a few months to a doula practice."
—Leontine Wallace, RN, Ann Arbor MI
Sample one of the Workbook tools today (Free Gift)!
All small business owners need to wear different hats. It's not enough to be a good doula to be successful. A variety of other skills, habits, and qualities are needed. Maximize your strengths and identify your areas for improvement to increase your chances of success. Becoming self-aware is the first step.
Is your relationship with money a positive force in your life? If not, can you begin to cultivate new thoughts, influences, beliefs, choices, behaviors—in a sense, re-program yourself? Consider your beliefs about Scarcity and Abundance. How can we let go of deeply held limiting beliefs and ingrained patterns?
Do you want to establish an independent doula practice or a partnership? Join an existing doula collective? Work for a doula agency or start one of your own? This detailed chart examines a variety of doula business models, highlighting the pros and cons of each model across several parameters.
Download your free resource(s) today!