END-OF-LIFE DOULA TRAINING
Learn how to support the dying and their loved ones.
Are you that person in your closest circles who naturally steps up, wants to help and finds ways to ease suffering, exhaustion, fear and grief? Perhaps you are already in the trenches as a hospice professional or volunteer? You are not alone. There are others just like you who feel honored to be present at the passing of a loved one, who have been profoundly moved by the experience. We understand how tough it is to navigate hard decisions at the end of life, in the face of overwhelming emotions, and how complex family dynamics can complicate the picture. We get it and we are not afraid. Somehow, we feel it is the place where we can most make a difference for others.
End-of-life doulas are the new frontier in end-of-life care. Their emergence is an outgrowth of recent cultural trends favoring more natural and holistic approaches for an aging generation of baby boomers. Our End-of-Life Doula Training covers how to provide non-medical comfort and support to the dying person and their loved ones in the final days, weeks and months of life. There are two paths you can take ...
1. Become a professional end-of-life doula
2. Personal enrichment or hospice volunteer
What is included in the training fee?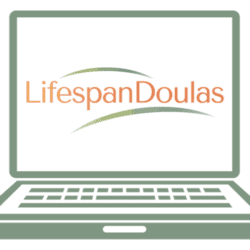 MAKE A DIFFERENCE, ONE FAMILY AT A TIME.
LIVE ONLINE CLASSES ON ZOOM
CHOOSE ONE SET OF DATES
May 22 & 23 (Saturday & Sunday, 9:30am-3pm EST)
July 17 & 18 (Saturday & Sunday, 9:30am-3pm EST)
September 14, 21 & 28 (3 Tuesdays, 1-4:15pm EST)
October 23 & 24 (Saturday & Sunday, 9:30am-3pm EST)
December 1, 8 & 15 (3 Wednesdays, 1-4:15pm EST)
Read requirements for online training here.
INVESTMENT
$697 or
$397 deposit + 3 payments of $100
There are no refunds for this class once you have been given access to the online classroom.
"This training was AMAZING and I am SO glad I did it. Thank you for your brilliance, skillful content curating, presence, wisdom and modeling of such respectful honoring of what is right and true for others as a doula way of being. I can't wait to keep moving forward on my doula work!" —Annie Girresch, St. Louis, MO
"You have done such a wonderful service with your training program. I am so impressed by the quality curriculum content and well-organized structure. The platform is also clean and easy to navigate." —Juliana Balistreri, Rohnert Park, CA
Who will benefit from end-of-life doula training?
DEFINITION
End-of-life doulas provide non-medical, holistic support and comfort to the dying person and their family, which may include education and guidance as well as emotional, spiritual or practical care, from initial diagnosis through bereavement.