END-OF-LIFE DOULA TRAINING
Learn how to support the dying and their loved ones.
Are you that person in your closest circles who naturally steps up, wants to help and finds ways to ease suffering, exhaustion, fear and grief? Perhaps you are already in the trenches as a hospice professional or volunteer? You are not alone. There are others just like you who feel honored to be present at the passing of a loved one, who have been profoundly moved by the experience. We understand how tough it is to navigate hard decisions at the end of life, in the face of overwhelming emotions, and how complex family dynamics can complicate the picture. We get it and we are not afraid. Somehow, we feel it is the place where we can most make a difference for others.
End-of-life doulas are the new frontier in end-of-life care. Their emergence is an outgrowth of recent cultural trends favoring more natural and holistic approaches for an aging generation of baby boomers. Our End-of-Life Doula Training covers how to provide non-medical comfort and support to the dying person and their loved ones in the final days, weeks and months of life. There are two paths you can take ...
1. Become a professional end-of-life doula
2. Personal enrichment or hospice volunteer
What is a hybrid training?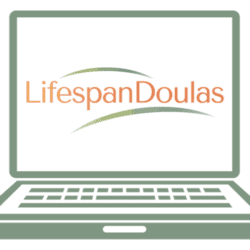 MAKE A DIFFERENCE, ONE FAMILY AT A TIME.
August 22 & 23 (Live Virtual session on Zoom ~ Read requirements for Virtual training)
October 24 & 25 (In-person, pending)
Class meets Saturday 8:30am-5pm & Sunday 8:30am-3:30pm

INVESTMENT
$697 Full Price or
$647 Early Bird (ends 30 days prior) or
$397 deposit + 3 payments of $100
Fees include access to online learning platform and two-day in-person workshop. A continental breakfast is provided each day plus a catered lunch on Sunday.
Your training encompasses the following topics:
Who will benefit from end-of-life doula training?
The EOLD's role may overlap with other EOL specialists who provide services to families.