Become an end-of-life doula and help families ...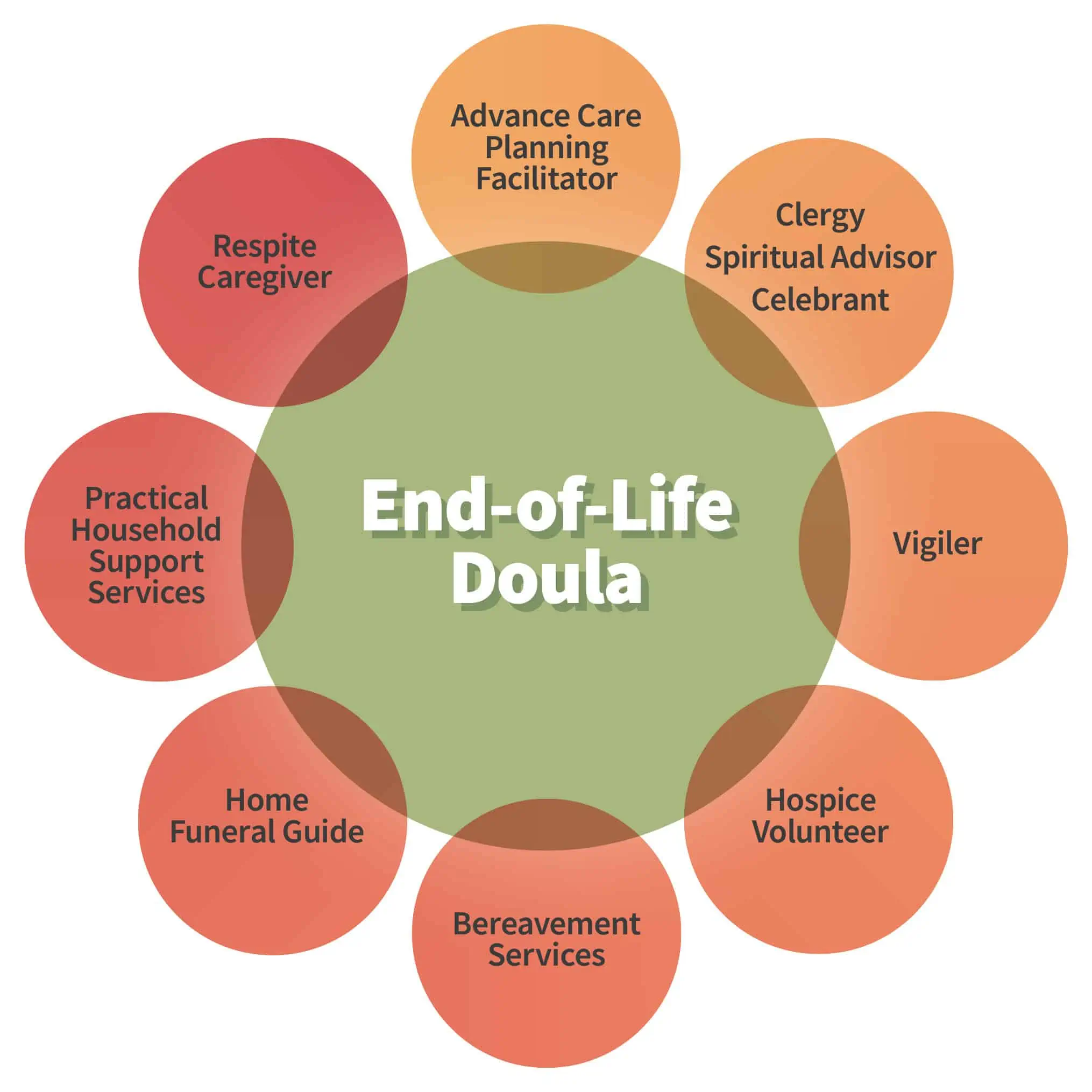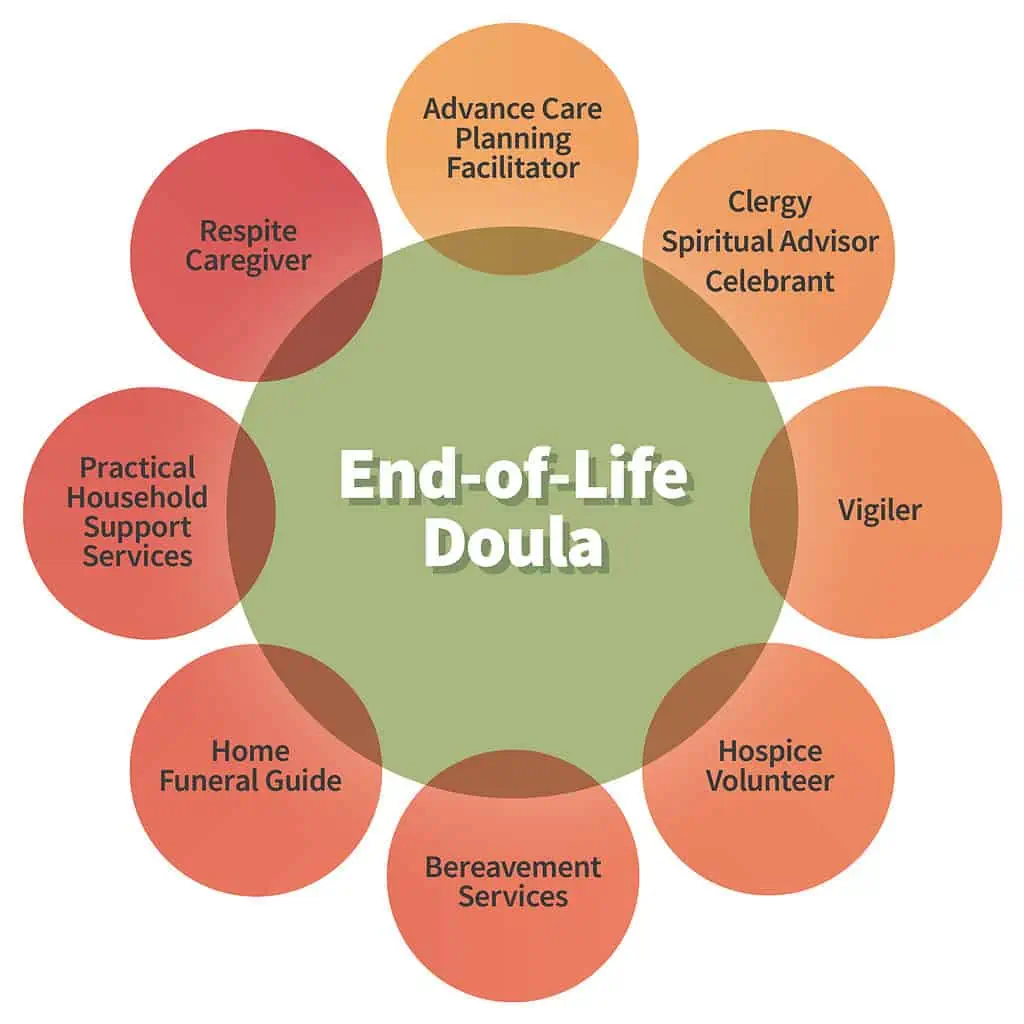 Not quite sure? Join our FREE monthly webinar & get your questions answered.
Our Top 5 Questions about Becoming an End-of-Life Doula webinar will provide an overview of the role of the end-of-life doula, the certification process, your income potential as a doula, how to get started on your path, and more. This session offers an opportunity to spend an hour with the instructor and get your questions answered before making an investment.
BECOME AN END-OF-LIFE DOULA
Do you have questions about our Refund Policy, payment plans, how to register, or something else? See our FAQs page for answers.
Step #1
Self-Paced Study Modules (50 hours)
The following 10 self-paced study modules provide a solid grounding in end-of-life basics and doula support. Click on the + sign to see a list of topics covered in each module.
Enjoy unlimited access to the study materials and complete the course in your own timeframe (no expiration date). Gain access within 24 hours of registering.
Step #2
Choose between attending a live workshop (10 hours) OR
completing a 100% self-paced program
Option 1
End-of-Life Doula Skills Workshop
Whenever you're ready, join us for a live, interactive workshop on Zoom. You do NOT need to have completed the self-paced study materials before taking the workshop. You will be asked to prioritize about 5 hours of materials in preparation for the workshop. See the workshop schedule below.
Option 2
100% Self-Paced Study
You will receive access to 10 hours of supplemental self-paced study materials covering the same materials as the workshop.
Step #3
End-of-Life Doula Certification (optional)
Our streamlined certification process is included in the course fee and can be achieved shortly after completing your training. Learn more about our End-of-Life Doula Certification Requirements. Certification is optional for doulas.
This course covers the core competencies for end-of-life doulas as defined by the National End-of-Life Doula Alliance (NEDA) and also prepares you to earn the NEDA Proficiency Badge (optional credential).
Do you have questions about our Refund Policy, payment plans, how to register, or something else? See our FAQs page for answers.
By the end of your doula training, you will have ...
A brain full of exciting ideas for your doula practice
Access to the best available resources on end-of-life
Templates & tools for creating your own practice
Feedback from Participants
"This has been an outstanding, fulfilling, cathartic, highly educational, and eye opening training. Truly."
—Kelly Collins, Delray Beach, FL
"I just want to express to you my thanks for providing an excellent course! As an RN with over 40 years' experience in a variety of settings, I truly learned so much!"
—Debbie Finger, Millville, DE
"The self-paced format was perfect for me and I appreciate the great amount of your work and expertise. I enjoyed the program at every step and it really did help me get my experience more structured and get a much deeper understanding of what it is to be an end-of-life doula."
—Varvara Kuchuk, Tbilisi, Georgia
"Very informative and comprehensive training. I am currently employed as a hospice RN case manager, and much of what was covered I wish I had learned prior to starting my practice."
—Victoria Wenger, Jenison, MI
"Thank you so much for the opportunity to study and learn from this wonderful program. The information is so rich that I saved it to review over time as I slowly and carefully develop my practice. I appreciate your sensitivity and depth of knowledge."
— Susan Anglada Bartley, Portland, OR
"Wow! Amazing training. Thank you so very much for giving so completely of your knowledge and yourself. I felt the training was very comprehensive, well-presented, and flowed nicely. Honestly, the time simply flew by on both days."
—Reverend Dr. Kathaleen (Kate) Martin, 1000 CYT, Sparks, NV
This training was AMAZING and I am SO glad I did it. Thank you for your brilliance, skillful content curating, presence, wisdom and modeling of such respectful honoring of what is right and true for others as a doula way of being."
—Annie Girresch, St. Louis, MO
"Thanks again for providing this invaluable opportunity to learn the basics of end-of-life doula work. You are thorough, interesting, spot on with your observations and experiences ... appreciate you and admire your work!"
—Kim Petrucci, Portage, MI
"Patty you are an amazing woman! Thank you so much for this program and the career you have chosen. I feel truly empowered by the extensive amount of material and resources you have given us. If only we could clone you!
—Sandi Bianchi, Chicago, IL
"I think your program is worth the money and time. I was especially NOT looking forward to spending most of my weekend sitting in a chair, but you have really surpassed the Zoom course boredom and figured out how to engage and inform virtually. The chance to meet the other students was terrific. The two panelists were a great addition. I am also an educator and so kind of a connoisseur of learning programs. Your program met and exceeded my expectations."
—Wendy Nemitz, St. Paul, Minnesota
"I'm pleasantly surprised about how much I'm enjoying the modules. The information has been great and very therapeutic for me. It has allowed me to process my parents' passing in a whole new light."
—Christine Rhoden, Los Angeles, CA
"This course was great, challenging, enlightening, and still so much to learn and explore. A great foundation."
—Laurel McCaslin, Snohomish, WA
"I just want to say again how much I learned from and enjoyed your course! I have continued to immerse myself in reading and learning more. I am just putting one foot in front of the other and seeing where it leads me! I appreciate your passion for this work."
—Rachel Baines, Orland, FL
"Thank you again for such a great training experience. The course materials, your leadership and expertise, combined with the online learning with the many wonderful people I met through my cohort was exactly what I was hoping for!"
—Cheryl Botieri, Plymouth, MA
"I cannot thank you enough for putting together such a comprehensive and thorough course. I have already learned much about myself and my motivations for pursuing a career in end of life service. I better understand areas where I need to grow (e.g. effective boundary setting) and feel better prepared to identify both pitfalls and opportunities in the field."
—Tim McCoy, Spartanburg, SC
"With a background as a nurse practitioner and a PhD in psychology, involving much grief therapy, I learned much much more than I ever anticipated. I even liked the certification exam.  It was good for further clarity and understanding—another teaching tool."
—Shirley Kirby, Jupiter, FL
"I wanted to thank you for offering such a super course, I especially appreciated the live workshop, recommended reading material, connecting with others in class, and it being self paced. Everything I needed was there to help build a strong foundation in this life changing position of being of service."
—Francesca O'Sullivan, Mountain View, CA
"The class today was fantastic and the interactivity, class size, activities all very powerful and helpful. I'm so glad I chose your course and certification."
—Jen Carolan, Cumming, IA
"Thanks so much for everything last weekend, Patty. Your thoughtful delivery, thorough content, and generous heart make for a beautiful combination; which, not surprisingly, attracts sweet souls like my classmates, who are drawn to you and the Lifespan Doulas training program. I am grateful to have found you and Lifespan Doulas and I know I am not alone. Although I'm sure I will be a bit nervous when the time comes to step forward with my first client, I will know that I have been trained by the best and am well equipped, heart and head, to go forth with confidence, to love and serve, and hopefully make a truly positive difference in the lives of others. Thank you again Patty. You are the secret sauce."
—Kelly Collins, Delray Beach, FL
"I am so impressed by the quality curriculum content and well-organized structure. The platform is also clean and easy to navigate."
—Juliana Balistreri, Rohnert Park, CA"
"The modules were AMAZING! Your curriculum is thoughtful, insightful, and has helped me tremendously as I currently volunteer for hospice. I feel so empowered after taking your course. Impressive!"
—Colleen Guglielmana, Pollock Pines, CA
"You have such a gift for presenting a huge amount of information in a way that is easy to follow and readily absorbed. I am gaining understanding in addition to information. I am not usually comfortable with learning from online reading, but I am finding it so easy to learn from your course. You are a fabulous teacher. Thank you so much for the thought you have put into your teaching so that it is so accessible." 
—Jennifer Schwartz, Honaunau, HI
"I enjoyed Patty very much. She was well spoken, intelligent, and demonstrated confidence and knowledge as a pioneer in the doula field. Her material went beyond my expectations as to equipping a doula for her business practice or volunteer work. I'm glad I chose Lifespan!"
—Julia Rupp, Archbold, OH
"Wow! What an unbelievable course this was. I found the material so healing and informative. I feel so much more at peace with what to do and how to do it. Truly priceless." —Kimberly Stokka Meredino, Denver, CO
"I have appreciated your timely replies to all my inquiries. My learning style is to ask questions and share opinions. Thanks for allowing for this." —Marie Kohler, Maplewood, MN
"My presence with the dying, and the Lifespan training, are beginning to be sought out and requested. There is great value in this! Thank you for being such a great trainer and providing us with what is needed to have confidence going into a very special place with families. I love this and am grateful that you equipped us and continue to mentor us!"
—Julia Rupp, Archbold, OH
"This course is amazing. Incredibly thorough and so well thought out, organized, and chock full of engrossing and pertinent information. The course is so pleasantly user-friendly, as well. Wonderful job."
—Kyra Brown, San Francisco, CA
What makes us different? Why train with Lifespan Doulas?
Top value at an affordable price! We understand you are searching for the best fit. Here is what we believe to be unique about our program and what we think sets us apart.
Benefit from the best of both worlds! Get grounded in the basics with our self-paced online learning modules. And experience the inspiration and sense of community generated in a live online workshop. A 100% self-paced program is also available, your choice.
Streamlined Certification
Our professional and accessible certification process can be completed shortly after training, has no expiration date, and is included in the cost of training. No hidden costs or ongoing fees. This is a big deal if you are comparing programs. Learn more.
Patty Brennan has been supporting families in transition for the past 40 years as a doula, midwife, educator, and founder/executive director of two nonprofit doula programs. She has trained approximately 2500 people to become doulas! Patty has earned the NEDA Proficiency Badge.
Our focus is on the development of doula support skills and building a strong foundation of knowledge about the dying process and end-of-life issues. Core competencies for end-of-life doulas are covered, as defined by the National End-of-Life Doula Alliance.
After training, we provide continuing education opportunities, priority referrals, and a forum for community support and mentoring for those who become members of Lifespan Doulas.
Doula Business Builder Training Bundles
Are you interested in more than one training or doula specialty?
Do you need expert advice on the business aspects of doula work?
Choose the package that best fits your goals & save!
If you are interested in creating a doula business or specializing as a doula in more than one area, these packages deliver the best value on your investment. Choose one, two, or three certification programs. Plus training in how to put it all together into a life-changing, successful doula business.
Doula Business Builder Package
$897
or PAYMENT PLAN:
$397 down + 5 payments of $100
Doula Business Builder Package
$1897
or PAYMENT PLAN:
$497 down + 7 payments of $200 OR 12 payments of $120
Doula Business Builder Package
$1397
or PAYMENT PLAN:
$397 down + 4 payments of $250 OR 10 payments of $100