DONA BIRTH DOULA TRAINING
Learn how to support families in birth!
Few events in life match the birth of a baby in anticipation and effect. We stand in awe and celebrate our children's births while simultaneously witnessing that, for too many women today, birth is traumatizing. Nearly one-third of American women undergo major abdominal surgery as their entry into motherhood. Others are struggling emotionally through the early weeks and months of their babies' lives. And a disproportionate number of Black women and their infants are dying. It doesn't have to be this way. Invest in DONA Birth Doula Training and ...

MAKE A DIFFERENCE, ONE FAMILY AT A TIME.
When you become a birth doula, you help parents experience:
Your skills-oriented birth doula training will include:
All trainings take place LIVE ONLINE on the Zoom platform.
REQUIREMENTS FOR PARTICIPATION ONLINE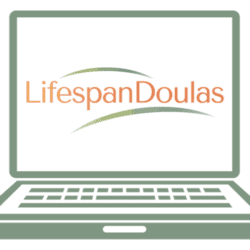 HERE'S WHAT PARTICIPANTS HAVE TO SAY ABOUT OUR ONLINE CLASSES . . .

"I honestly had lower expectations because it was a virtual training online. All my expectations were exceeded and I felt like the workshop was well worth the money, even not being able to be there in person."

"I was worried about taking an online training, but Patty was very knowledgeable about Zoom and was able to let us meet in smaller groups (breakout rooms) to go over certain topics and scenarios. She would change up the groups so we got to interact with everyone in the training. She made us feel like a community, even though we weren't physically together."

"I wasn't sure how an online class would go, but I thought it was great! The breakout rooms/activities, especially, were a great way for us to interact with each other." -- Jessica Woodward

"It is awesome that you are able to create an environment of camaraderie via Zoom! I have been invited to two Facebook groups based on your classes. The groups like to stay together even after class and that is so cool and such a superpower!" -- Lanay Gilbert
DONA Birth Doula Training Workshop
Do you want to become both a birth and postpartum doula?
Invest in our Doula Business Builder Deluxe Training Package and save!
We are in transition folks! Please check back in early May for our exciting ALL NEW trainings and training packages.
"I didn't get a chance to tell you in our short encounter on the Dexter boardwalk how much I appreciate the birth doula training I took with you. I used so much of what I learned in the birth and breastfeeding of my daughter. I felt much more prepared for labor and more empowered to make the choices I did. Your training has also helped me to be even more loving and supportive of the women I get to care for as a chiropractor. I still use resources and skills that I gathered from your class on a regular basis. The work you do is very important and it has changed me for the better!"  - Sarah Prater-Manor
"I absolutely loved this experience. Worth my money and time investment. I am so thankful I undertook this venture. I feel inspired and filled with recognition of my soul's purpose. Thank you for being here and running such an amazing workshop." - Jess Juntunen, Hancock, MI
"Thank you so much–I can't get enough! I only wish I could take this workshop and the postpartum one over again for the first time. What an education and experience! Best $$ I ever spent." - Kat Oshman, Ann Arbor, MI
 "I took your birth doula class to help my daughter through labor…. She did fantastic, remained in full control, trying a lot of different positions and various techniques…. We tried and did many things I learned in class and I appreciated everything you taught and suggested." - Dana Borenitsch
 "Patty was such an inspiring woman to learn from as I begin this new part of my life! Her energy, enthusiasm, and passion for serving mothers and their babies (and partners!) will stay with me forever." - Kate Louik, Ann Arbor, MI
"As a young woman who has never experienced pregnancy or birth, the subject was a bit overwhelming at times. But your teaching style made the material so approachable, understandable and fun." - Mary Colleen Casey, Ypsilanti, MI
"Unfortunately, I received my [initial] doula training from another trainer … thank goodness Patty has renewed my faith in DONA and the holistic model that it originally represented. It was well worth the extra miles to get here!" - Kristin Kelly, Traverse City, MI
"Great learning environment. Best class I have ever attended." - Michaela Anderson, Adrian, MI
Let an expert be your guide:
Patty Brennan has been immersed in all things birth related for 37 years. She has prepared well over 1,000 couples for birth as a childbirth educator and is an experienced birth doula and retired midwife. Since 1998, she has trained more than 2,000 doulas, encouraging each new doula to use her own unique strengths and gifts to make a positive difference for new families. As you begin your doula journey, Patty and her carefully selected team of instructors are honored to be your guides.