BIRTH DOULA CERTIFICATION
Professionalize your services with Lifespan Doulas.
What does it mean to be a certified birth doula?
Certification for doulas is optional. Most doulas are self-employed and can decide for themselves whether they choose to certify. There is no government-mandated regulatory entity that oversees doula training and certification programs on a national or international level. Certification simply indicates that one has completed the requirements of a particular doula training and certification program. Certification, at a minimum, guarantees that the person calling her/himself a "doula" has ...
OUR BIRTH DOULA CERTIFICATION AT-A-GLANCE
Complete the self-paced training modules.
Attend two live online workshops.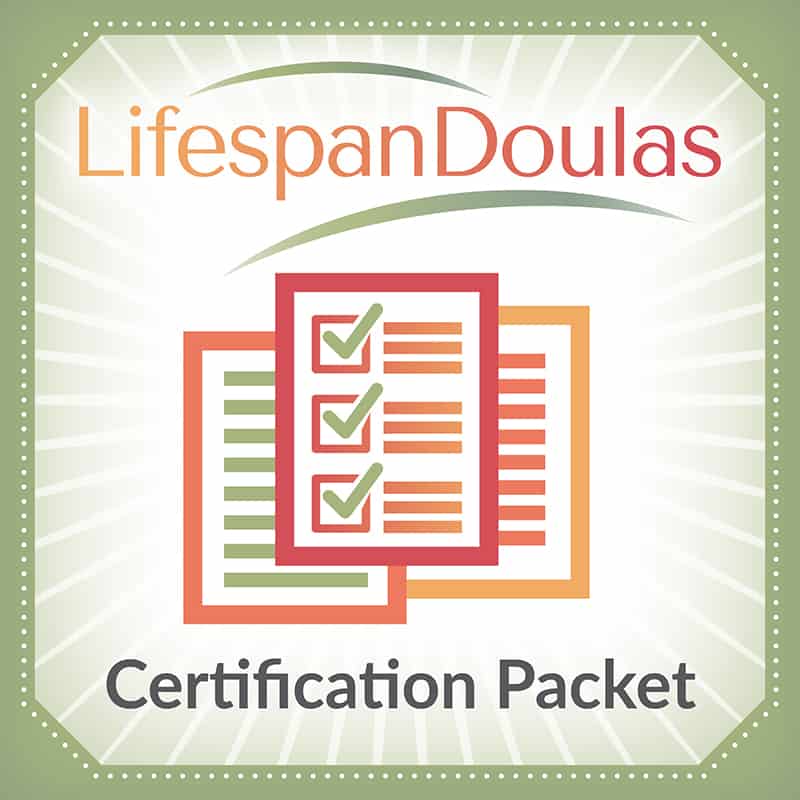 If you trained with Patty Brennan in the past and wish to become certified with Lifespan Doulas, we have a no-cost process for you!
We will accept completion of past birth doula training with Patty as fulfilling current certification training requirements through 2021. After that, there will be a small fee. The exam will be available by July 1st.
If you trained with another trainer and wish to become certified with Lifespan Doulas, we have a process for you!
Show proof of completion of a professional birth doula training and complete requirements for a one-time fee of $100 (includes a Directory listing). Read about the process here. The exam will be available by July 1st.
Community Access to Doulas
I have been a leader in the doula community for many years and have witnessed up close the growth of the doula profession. In the push to professionalize our special brand of support services, doula training organizations have created an ever-increasing number of post-training certification hoops for newly trained doulas. These may include documentation and evaluation of hands-on experience with clients, writing essays, extensive reading requirements, ongoing continuing education requirements, periodic re-certification, and more. Last, but certainly not least, is the additional costs involved for the doula in achieving certification/re-certification and the ongoing revenue stream this creates for the training organizations.
What effect do these requirements have on the greater doula community? The addition of certification fees to the cost of training, along with mandated annual membership fees, continuing education fees, and re-certification fees create barriers for lower-income doulas, many of whom cannot afford to become certified after investing in training.
As newly trained doulas begin to provide services, many discover that certification is not necessary. The reality is a large percentage of trained doulas do not choose to become certified. Of those who do complete certification, an even larger percentage do not choose to re-certify when the time rolls around, as the ongoing value of the certification is uncertain.
Making doulas accessible . . .
What is the difference between "certification" and "licensure"?
There are instances where certification may be required. In 2020 and 2021, the pandemic saw hospitals placing restrictions on the number of support people allowed. In some cases, birth doulas were/are prohibited altogether or required to show evidence of their professional role (e.g., proof of training or certification, or a contract for services) to gain admittance. In addition, doulas seeking employment from a doula agency or an established doula program may encounter certification requirements as a condition of employment.
In the United States, licensure is overseen at the state level. Licensure involves government mandates, fees, and oversight, and is required for many professions such as hair stylists, daycare providers, home health care agencies, and more. Birth doulas are unlicensed and unregulated service providers in most states. Exceptions include Oregon and Minnesota, with legislative efforts to regulate doulas underway in several other states. The motive driving these regulatory efforts is to qualify doulas for Medicaid (and other third-party) insurance reimbursement. It is best to keep in mind that the status of certification and/or licensing is likely to change over time in the U.S.