Top 5 Questions about Becoming an End-of-Life Doula ~ Webinar Recording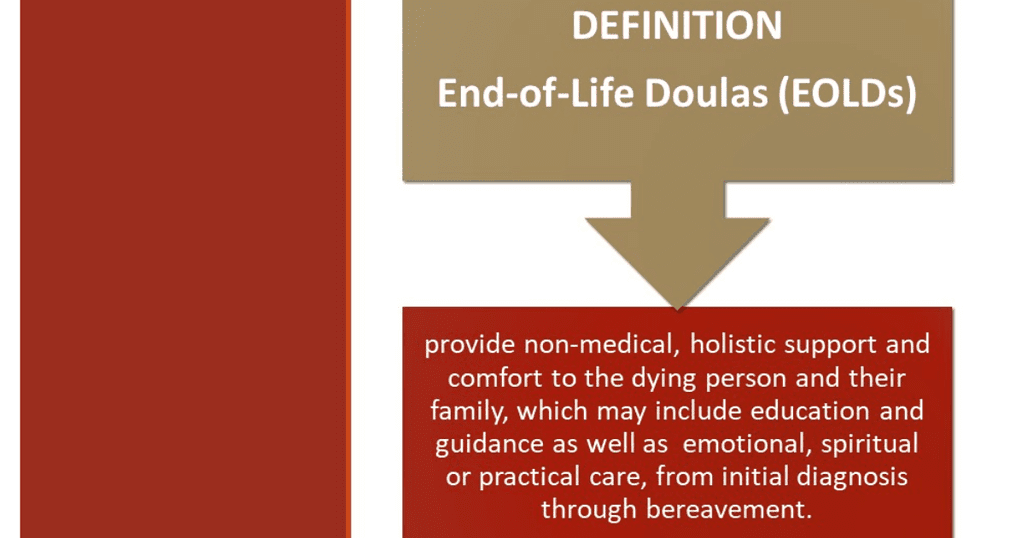 Becoming an end-of-life doula starts with choosing an end-of-life doula training. Easier said than done, right? How to choose? What questions should you be asking?
Questions Answered
The presentation by Patty Brennan covers the following topics:
What is the role of the end-of-life doula?
What is the meaning of the word "doula"?
Where do end-of-life doula services take place?
At what point in time do end-of-life doulas work with families?
What types of services are provided by end-of-life doulas?
What are the differences between hospice volunteers and end-of-life doulas?
Is there licensing for doulas?
What is the meaning and value of certification for end-of-life doulas?
Understanding the role of NEDA (National End-of-Life Doula Alliance) in the big picture
In our Q&A section during the second half of the hour-long program, the following topics are covered:
What about liability for doulas? Is there insurance available?
How does the end-of-life doula scope of practice offer protection against liability concerns?
What about doula contracts or service agreements with clients?
Formation of a Limited Liability Corporation as one approach to risk management for doulas
How do end-of-life doulas charge fees for services? Is it by the hour or as one fee for a package of services?
How does one navigate boundaries with clients?
How is Lifespan Doulas end-of-life doula training structured?
And more!
Becoming an End-of-Life Doula
We understand that there are lots of training choices out there and that you are comparing programs to find the best fit. I recommend that you think in terms of your goals with this work.
Are you seeking to simply be more informed for your own personal enrichment and perhaps to better support the loved ones in your life who are transitioning?
Do you want to reach out and help members of your extended community as a form of volunteer service?
Are you already a professional specializing in some aspect of end-of-life care–such as a chaplain, bereavement counselor, hospice nurse, social worker, massage therapist, home health aide or companion–and perhaps seeking to enhance the services offered to your clients?
Are you planning on retiring soon from an institution and thinking about supplemental retirement income?
Or are you planning on a new career as a self-employed doula? Perhaps you are simply new to this entire concept and intrigued?
People of all types, ages, and backgrounds take doula training for a variety of reasons. What are your goals? Consider also: What skills do you have to share? What are you passionate about in relation to death and dying?
Which end-of-life doula training is right for you?
All of the above will come into play in finding the best fit for your doula training. With a solid sense of your goals, you are now you are in a better position to search for the right fit. Which program/trainer do you most resonate with? What aspect(s) of the doula's potential role with the family are emphasized? Can you read between the lines on their website to discern the values that underlie the curriculum? Are they signaling a belief system or approach with which you resonate? In the end, you will need to take a leap. Go with your gut!
Do you have questions about becoming a doula?
Sign up for one (or both!) of our FREE monthly interactive webinars and get your questions answered.