The Doula Model of Care—August Newsletter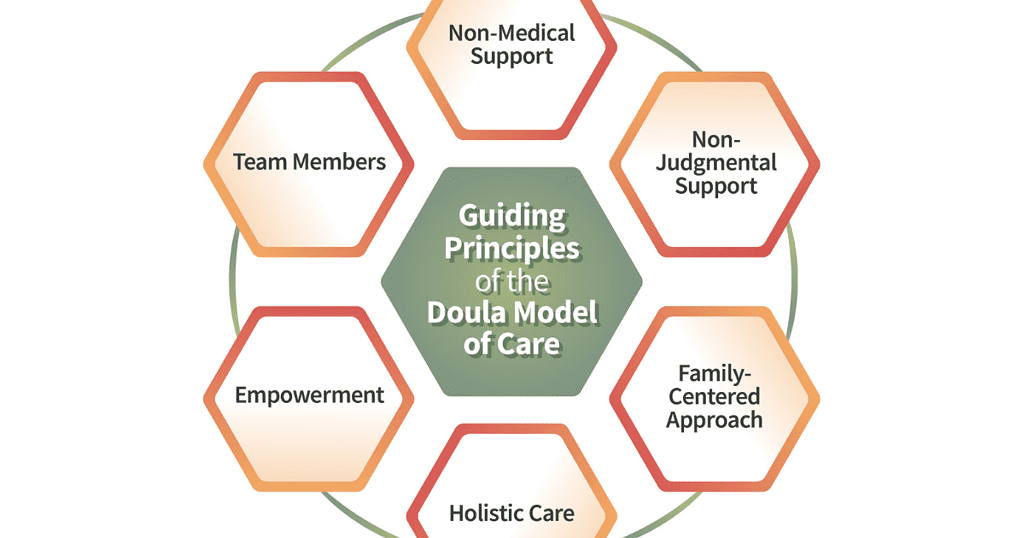 What is the Doula Model of Care?
The Doula Model of Care is based on the guiding principles at the heart of what it means to be a doula and best practices for all doulas. These principles and practices are embodied in the Doula Scope of Practice. Within this model, each doula can bring forth her/his own best expression of the doula's role, tailoring services offered to families in their own communities. Through the doula training process, aspiring doulas begin to discern where they fit in the doula world. It is not a one-size-fits-all approach. It is a creative process that calls forth your unique blend of skills, life experience, and passion to support others.
The Art of Listening
Can you relate to this? How often is your mind formulating what you are going to say next in response to someone's sharing, rather than fully devoting yourself to understanding BEFORE you even think of replying? Can we retrain ourselves?

I love this video by Brene Brown on the difference between empathy and sympathy (3 mins)–another great communication reminder!
Favorite Blogs & Resources for End-of-Life Doulas
Have you thought about having a doula career? Here's are BEST VALUE …
Choose one, two, or three certification programs. Plus training in how to put it all together into a life-changing, successful doula business with our Doula Business Builder Training Bundles. Basic, Core, and Deluxe bundles include:
Your choice of Birth, Postpartum, and/or End-of-Life Doula Training & Certification program
Patty Brennan's The Doula Business Guide and Workbook, 3rd Editions (mailed to you)
A streamlined certification process can be completed shortly after training. Certification for life. No additional or ongoing fees.
One, two, or three Directory Listings, depending on your package choice.
Payment plans available.
Holding Space for Pregnancy Loss: Webinar Recording Available
Pregnancy loss is a special kind of loss. Doulas of all specialties will inevitably encounter it and will, no doubt, benefit from Amy's wisdom and graceful modeling of how to "hold space." Watch a recording of July's Pregnancy Loss Webinar.
Amy Wright Glenn is the owner of the Institute for the Study of Birth, Breath and Death, and author of a book by the same title.
Before summer ends, complete your doula training online!
Get started right away. Within 24 hours of registration, you will be given access to the self-paced online study modules. Live on Zoom workshop dates are as follows:
End-of-Life Doula Training, August 21 & 22
Birth Doula Training, August 28 & 29
Favorite Blogs & Resources for Birth & Postpartum Doulas
Upcoming Members Only Webinars
September 15
Key Aspects of Honoring the Dying
With author Ellie Atherton
Ellie is the author of Stepping Stones: Following a Pathway to End of Life, now on our required certification reading list for end-of-life doulas.
November 17
Understanding Dementia & Doula Support Strategies
With Lori Smith
Lori brings 24 years' experience working in a variety of elder care models, including adult day care, home care, long-term care, and memory care. For the past 12 years she has specialized in family dementia care and educating families to help them keep loved ones at home for as long as possible. Lori recently completed Lifespan Doulas' End-of-Life Doula Training program and is eager to share her tips for navigating the dementia journey.
Read about Member Benefits and Become a Member ($75 annual fee includes an enhanced directory listing to promote your services and more!)
Join our "Top 5 Questions about Becoming a Doula" FREE monthly webinar!
Pre-register Now (to gain access on Zoom)
BIRH/POSTPARTUM DOULAS: August 9 from 7:30-8:30pm EST

END-OF-LIFE DOULAS: August 16 from 7:30-8:30pm EST
What is the doula's role and what types of services are offered?
Is certification important and how does the certification process work?
Do I have the right background to become a doula?
Can I make money as a doula?
How do I get started on my path?
Is there any liability associated with doula work?
Bring your questions!
Or, watch a recording of a recent webinar (scroll to bottom of page):
Do you have questions about becoming a doula?
Sign up for one (or both!) of our FREE monthly interactive webinars and get your questions answered.