New online End-of-Life Doula training program has launched—October 2020 Newsletter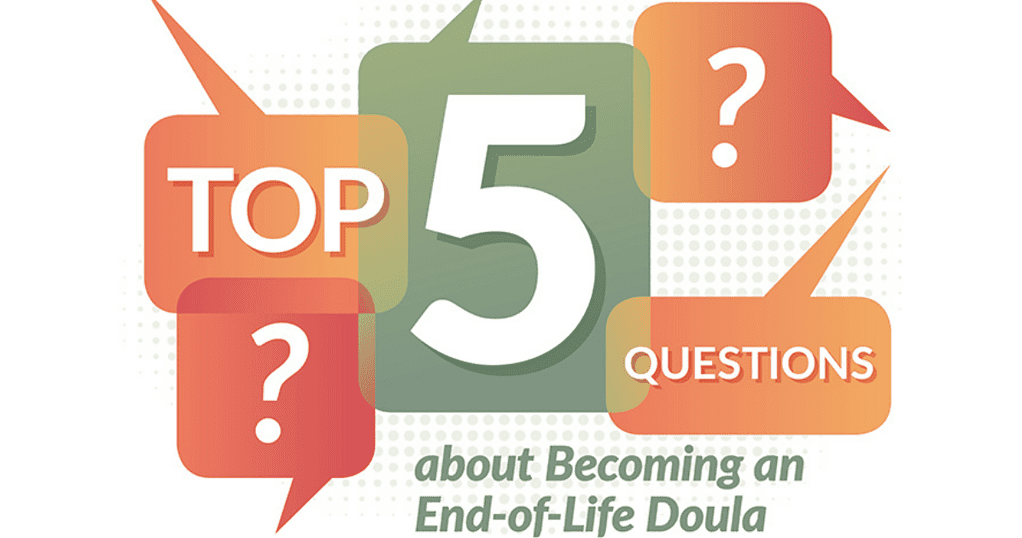 October 2020 NewsletterView this email in your browser
End-of-Life Doula Training & Certification~ Supporting life's final transition ~
Become an End-of-Life Doula!
The Doula Business Guide
by Patty Brennan
A year of changes …

We all have a COVID story now. How it has and continues to change our lives. Most of it has been truly awful for too many. But I have also heard stories about and experienced the silver linings. One friend, who suffered a bad case of COVID, told me she fell in love, over the phone, during her down time. Not so bad. For my part, I have been working a plan for Lifespan Doulas. COVID came along and hijacked my timeline (in a really stressful way), but it is taking me where I intended to go with comprehensive online doula training. Again, not so bad. I hope your stories are similarly mixed with a silver lining here and there, at least. Today, things are finally settling a bit. Deep breaths … I am super excited as our new EOLD programs take shape.It's a launch!

Our freshly updated and completely revamped online End-of-Life Doula Training program with Patty Brennan is now complete. The program features:10 self-paced online training modules; each module is divided into shorter lessons (we estimate 30 hours to complete; approximately 15 hours should be completed before the live workshop)A nine-hour live, interactive online workshop, offered over a weekend (Saturday & Sunday, 9:30am-3pm EST)Lifetime certification is now included in the registration fee. After completing training, students can take a certification exam to earn their CEOLD credential (certified end-of-life-doula). Read more about our new streamlined certification process below.Upcoming Trainings (space available)October 24 & 25, 2021January 16 & 17, 2021In the News, Events, Favorite Blogs, Resources …

The New Immortality: Shifting attitudes about death, our bodies and the environment. People are conserving resources by re-purposing their bodies after death.

Changing the Narrative of Pediatric Death and Dying: The story of a bereaved parent serving as an end-of-life doula and home funeral guide. Article by one of our students, Toula Saratsis, featured in the NHPCO Pediatric Journal (p. 13).
Does Morphine Hasten Death? Blog by Barbara Karnes.

At home death in the midst of the Coronavirus epidemic. Helpful advice from the Home Funeral Alliance.

The Green Burial Council is hosting a virtual conference October 12-23.

The Conservation Burial Alliance is a group of owners, operators and advocates working to support the protection, restoration and sustainable management of conservation land that incorporates natural burial cemeteries.Meet our new Director of Continuing Education …

I am delighted to welcome Bonnie Blachly to the Lifespan Doulas team of skilled instructors. Bonnie will be organizing and hosting our bi-monthly member webinars on a variety of topics. She brings a rich background as a nurse experienced in end-of-life caregiving and an instructor on death and dying at Washington State University. Bonnie is an end-of-life doula and a member of Gentle Passage Doula Collective in the Seattle area. See what Bonnie has lined up for you below …Making community doulas more accessible …
Lifespan Doulas believes that extensive certification requirements and payment of associated fees are unnecessary to achieve the aim of preparing well-trained, high-quality doulas to serve families in their own communities. We believe in making doula certification accessible to all who have the calling to become a doula. Consequently, Lifespan Doulas has chosen to remove barriers to professional doula certification by streamlining the process and including the cost of certification in the training fee. Read more about the value of certification for doulas; our new, streamlined certification requirements for EOLDs; and the rationale for these changes.

We are creating a process to grandmother (or grandfather) in any participants of past programs who want to get certified. In addition, we will be welcoming EOL doulas who trained elsewhere. Stay tuned …UPCOMING
MEMBERS ONLY WEBINARS
October 21 (Wednesday 7-8pm EST)
The Who, What, Why, When, and How of Doula Work
In this webinar, Bonnie Blachly will interview Kathy Bates who will talk about her work as an end-of-life doula, including how she got started and how she gets clients. Kathy will describe her work through case studies so participants can clearly see how she applies what she learned in her training and how she can be nimble as she encourages her clients to drive their end-of-life plan.

November 18 (Wednesday 7-8pm EST)
Facilitating End-of-Life Conversations
Our featured speaker is Maureen Kures, the owner and operator of her company Radiant Mourning. Maureen gets people talking about their end-of-life wishes. She will share how she supports people to get their affairs in order.

December 7 (Tuesday 7-8pm EST)
Riding the Roller Coaster of Grief
Featured speaker is Kathleen Putnam who will be doing a presentation on her work related to grief coaching. Kathleen has recently completed training with Amy Wright Glenn, the author of the book, "Holding Space." Kathleen will share ideas on how doulas can support clients and families as they walk through their experience of grief.

Become a member of Lifespan Doulas and join us! Members also gain access to past recorded webinars.
Joins us and get your questions answered!
Our next FREE, interactive webinar will be held October 28 (Wednesday 7pm EST). Pre-register now for the Top 5 Questions about Becoming an End-of-Life Doula. Wewill address questions regarding:the role of the EOLD and types of services providedhow doulas interact with the hospice teamwhether you can support yourself doing EOLD workall training-related questionsis certification necessary?and more!
Do you have questions about becoming a doula?
Sign up for one (or both!) of our FREE monthly interactive webinars and get your questions answered.